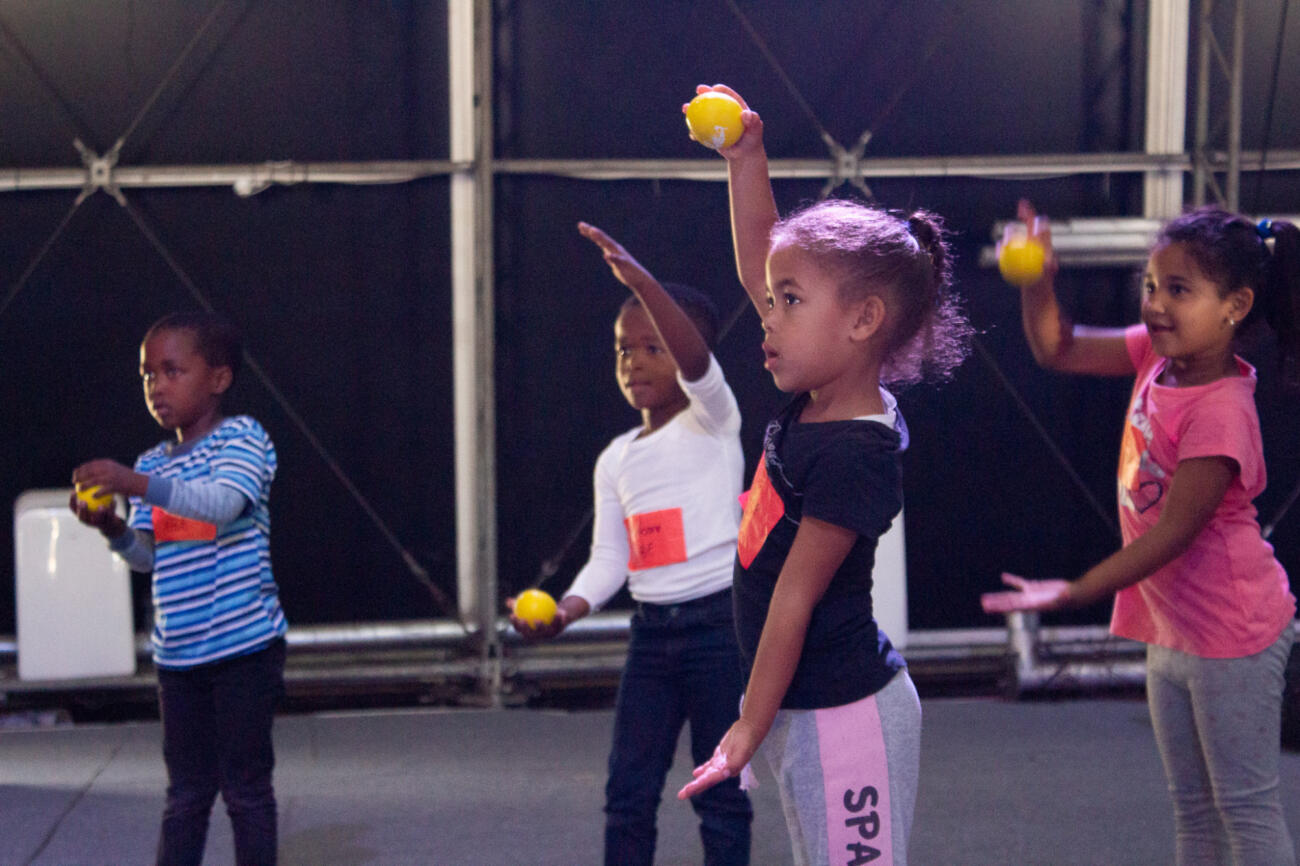 'Built on love' – South Africa's first social circus
Zip Zap gives a new perspective on education
Vanessa Curnow-Fortune's passion for her job as Programmes Manager at one of South Africa's few social circuses is infectious. Zip Zap, she says, is an organisation built on love: "Love for South Africa, love for South African people and, love for the children of Cape Town. It's about spreading joy for children of all ages."
Founded in 1992, Zip Zap uses circus arts as an educational tool to teach children and young people important motor skills like coordination, strength and balance as well as a wide range of vocational skills. "The circus offers so many opportunities to learn technical skills," Vanessa says. "Behind the scenes, stage management, lighting, music direction, costumes, prop-making, or even training to become one the next generation of instructors."
According to Vanessa, the realities of the social issues facing many of Zip Zap's young beneficiaries are challenging in the extreme, many of them exacerbated by Covid. "In a city like Cape Town, the demographic is hugely affected by a global pandemic. We don't just get up, dust ourselves off and get on. The impact has been nothing short of astronomical: unemployment rates soaring, staggering poverty levels, gangsterism, crime, substance abuse, gender-based violence; the list goes on."
Zip Zap's purpose is to use the circus as a transformational tool to create social cohesion through its inclusive ethos and, says Vanessa, "become a beacon of hope" to those with limited prospects. "We work with children from very diverse backgrounds and socioeconomic circumstances, cultures and religions," Vanessa explains. "It is essential for us that those things don't cause divisions. We celebrate, we embrace, we use those differences to create beauty through circus magic."
The team runs six outreach and four youth programmes that are provided free of charge. Khula Nathi, or "grow with us", launched in 2018 and uses early childhood development principles to provide alternative early learning experiences through the circus arts and related activities. Zip Zap runs the programme in collaboration with six early child development (ECD) centres from Imizamo Yethu and Hangberg, both informal settlements in Hout Bay. "Historically, the area has been home to a fishing community. In recent years, however, bigger fishing companies have entered the market forcing out many small-scale fishermen who are now struggling to sustain themselves. Traditionally, life has been hard. Now, it is even harder."
The selected ECD centres have committed to a two-year programme with the same group of 30 children who start in school years four and five and move on to years five and six in the second year. "With Khula Nathi, we take the existing school curriculum and supplement it with physical components whether that is fine motor skills, gross motor skills, balance or listening – all learned from concept through to action," explains Vanessa.
The children travel by bus to Zip Zap's Dome on the Foreshore in Cape Town and its Academy in Salt River. "When they walk into our facility they gape," laughs Vanessa. "Their eyes are wide and they stop breathing for a second when they walk into our state-of-the art academy, completely spell bound."
For these children, Zip Zap opens their minds to new possibilities. "We want to be able to create opportunities for at least some of them and be part of the vision that Madiba had years ago about a Rainbow Nation; contributing to it one child at a time, empowering and inspiring them to see the world through a different lens."
Stonehage Fleming is proud to support Khula Nathi. To make a donation to ZipZap, follow this link.
Email