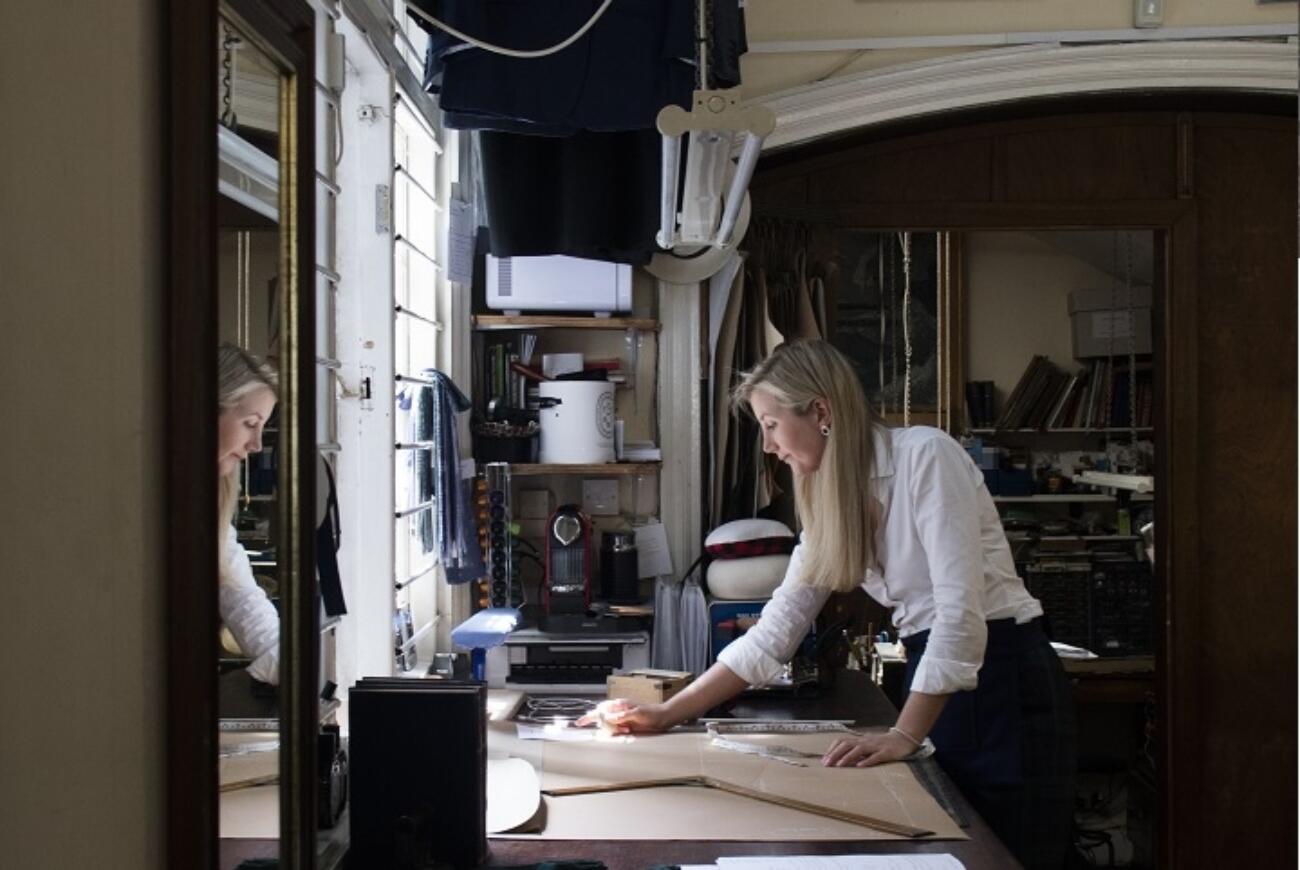 Wielding the shears for a new generation of tailors
Meet Caroline Andrew
A good tailor uses their intuition. You can tell a lot from people's body language, says bespoke tailor, Caroline Andrew - the first woman to run her own business in the century-old tailoring building that is her base, in the heart of Mayfair. "I can always gauge what is too much, what's not enough, what will be worn every day, what's too 'out there' and will just live in the wardrobe. You don't want to push people."
Caroline has a knack of putting people at their ease – something you learn as soon as you enter her studio on St George Street. "Sometimes people end up being very relaxed", she says. "I often feel like a hairdresser. People confide in me. They laugh, they cry about relationships – they find the experience cathartic. But I am a listener. If you are an open person it tends to echo around the fitting room and people respond to it".
Many of Caroline's clients are powerful women and men – doctors, lawyers, captains of industry, lobbyists. They often have stressful lives", says Caroline. "Some seem to relish having someone to talk to who is so different from people in their professional lives."
Her clients come from all walks of life, but what they have in common is a lack of time. "They often come to me during the working day, jumping out of a cab, hanging up the phone as they walk through the door." Moments later, they exhale, and they are standing in their socks talking to Caroline about their terrible morning, or some drama unfolding in their personal lives. A tailor never tells.
When Caroline started out, she was welcomed into the tailoring fraternity with open arms. She is forever grateful for the warm welcome she was given. The shears she uses every day, were a hand-me-down from a retiring friend. "A lot of the equipment you need - like the rulers and scissors - aren't actually made any more, so you either have to find them on eBay or they are passed down as presents. It feels like I am carrying the baton for the next generation", she smiles.
Caroline embodies modern tailoring. She welcomes clients into her Mayfair premises, the picture of British elegance mixed with London style, in her beautifully-cut chalk stripe trousers and trainers. "I'm always running somewhere, be it to the post office, to the alteration tailor, the presser, or dropping something off for a client".
As for her own style, Caroline boils it down to simple principles. "My style is very British. When I think about fabrics for suits it is a lot of chalk stripes and Prince of Wales check – a very British cloth. I love the Black Watch tartan. Those beautiful colours and fabrics are the starting point and the styles that follow are very simple - almost androgynous".
As the next generation of tailors emerges, Caroline among them, she feels there is much to be learned from the old traditions she holds so dear. Sure, she keeps in touch with a younger generation of clients with WhatsApp and Instagram, but she won't let go of traditional tailoring.
"These days you can ping off three measurements to an online retailer and receive a pair of trousers in the post in a few days. It is super easy for the time poor who don't want to go shopping", says Caroline. But something is missing.
"When I ask clients if they would miss the face-to-face experience, they all say they absolutely would. They like coming to me to have this human interaction. They are investing in a suit for the long term. They want the experience. It is all part of the service and I want to hold on to that".
Visit carolineandrew.co.uk
Email